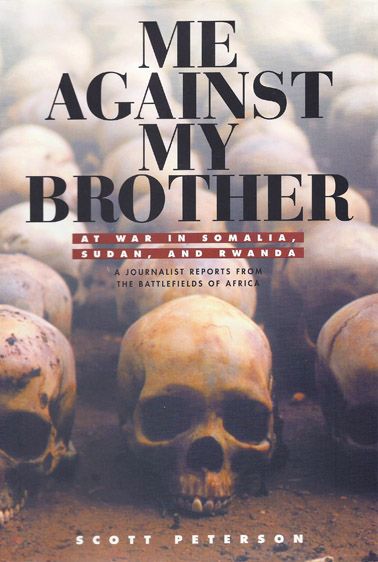 Me and my clan against the world;
Me and my family against my clan;
Me and my brother against my family;
Me against my brother.
—The hierarchy of priorities,
as ordered by a Somali proverb
***
AS A FOREIGN CORRESPONDENT, Scott Peterson witnessed firsthand Somalia's descent into war and its battle against US troops, the spiritual degeneration of Sudan's Holy War, and one of the most horrific events of the last half century: the genocide in Rwanda. In Me Against My Brother (Routledge, 2000), he brings these events together to record a collapse that has had an impact far beyond African borders.
In Somalia, Peterson tells of harrowing experiences of clan conflict, guns and starvation. He met with warlords, observed death intimately, and nearly lost his own life to a Somali mob.
From ground level, he documents how the US-UN relief mission devolved into all-out war—one that for America proved to be the first formative post-Cold War debacle.
In Sudan, he journeys where few correspondents have ever been, on both sides of that religious frontline, to find that outside "relief" has only prolonged war.
In Rwanda, his firsthand experience of the genocide and well-documented analysis provide rare insight into this human tragedy.
Filled with the dust, sweat, and powerful detail of real life, and with striking photographs taken by Peterson himself, Me Against My Brother is as enlightening as it is painful and graphically illustrates how preventive action and a better understanding of Africa—especially by the US—could have averted much suffering.
***
"Peterson has traveled as deeply into the darkness of these conflicts as any journalist alive, and while the stories he returns with are both terrifying and enlightening, they retain a generous, hard-earned vision of another, more humane African future."
—William Finnegan, author of Cold New World
***
Read Scott Peterson's biography on the JOURNEYS page, here