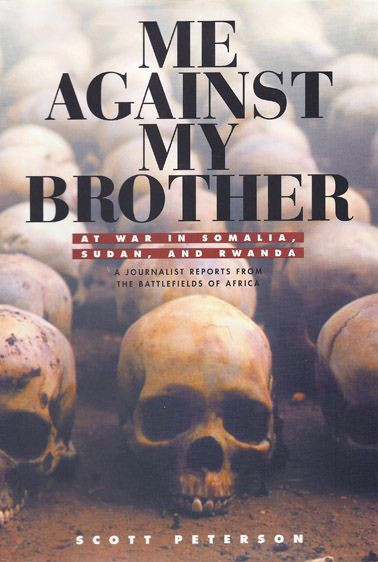 Advance Praise
"Scott Peterson was among the most intrepid, energetic journalists in Africa during the 1990s. In Me Against My Brother, he takes us on a terrifying journey across the continent during a time when humanity's darkest impulses seemed to overwhelm all reason and compassion.
"A masterwork of on-the-ground reportage and analytic clarity."
—Joshua Hammer, former Newsweek Africa correspondent, and author of A Season in Bethlehem: Unholy War in a Sacred Place
"A gripping piece of reportage by a courageous American journalist about Africa's most horrific episodes of the 1990s. Peterson takes his readers ona frightening journey to the very edge of human tragedy."
—Karl Maier, author of Into the House of the Ancestors: Inside the New Africa
"A relentless account of local, civil and ethnocidal war in Africa, and an angry protest against the way that war's horror is compounded by cynical and ignorant bureaucrats and politicians who have not yet learned the consequences of unwise aid and intervention."
—Peter Matthiessen, author of The Snow Leopard and The Tree Where Man Was Born
"A decade of extraordinary reporting informs these accounts of war in three countries in Africa. Peterson has traveled as deeply into the darkness of these conflicts as any journalist alive, and while the stories he returns with are both terrifying and enlightening, they retain a generous, hard-earned vision of another, more humane African future."
—William Finnegan, author of Cold New World
"Peterson brings us wrenching tales of good intentions gone awry, bad intentions paying grisly dividends, and far too little attention being paid to the human cost of conflict in Somali, Sudan, and Rwanda. Peterson's book should heighten political and public resolve to get our Africa policy right, as he shows we could hardly get it more wrong."
—Samantha Power, author of A Problem from Hell: America and the Age of Genocide
"Scott Peterson has given us a sad, compelling, and depressingly accurate picture of African countries torn apart by senseless civil wars. In this beautifully written account, Peterson shows us what we need to see to understand Africa's current plight. This is first-rate reportage from the front line of some of the continent's most persistent conflicts."
—Keith B. Richburg, author of Out of America: A Black Man Confronts Africa
"Vivid... compelling... controversial... this is a disturbing book."
—Ambassador Don Petterson, former US envoy to Somalia, Tanzania, and Sudan
Reviews
"A spirited examination... Peterson melds his eyewitness accounts with considerable research. His reporting is fresh with colorful observation...it makes for powerful reading."
—Mark Bowden, author of Black Hawk Down: A Story of Modern War, in Policy Review
"It has the immediacy and vividness of eyewitness testimony... His reporting is visceral and close to the ground... With tribal, ethnic and religious conflicts now so pervasive, the lessons Peterson communicates about Africa should claim the attention of everyone trying to make sense of today's world."
—Publishers Weekly (starred review)
"This is an important book about a subject that could hardly be more important. Anyone interesting in how the world works should read it; though it will bring comfort to none."
—The Sunday Telegraph (London)
"We owe a debt of gratitude to people like photojournalist Scott Peterson, who not only risked his life to witness the horrors and take pictures but who possesses the eloquence to describe what he has seen, which he does in a powerful, disturbing book."
—Houston Chronicle
"Scott Peterson's savage and penetrating new book makes clear, Africa is rarely as simple as it seems. Me Against My Brother is extensively researched and thoroughly documented. This is history at its most penetrating."
—Atlanta Journal-Constitution
"This is a disturbing book. It should be required reading for all those charged with crafting America's African policy."
—Washington Times
"In dissecting how poverty, hunger, and vengeance plunged Africa's people into the depths of hell, Peterson has also exposed the potential vileness in all of humanity."
—The Boston Book Review