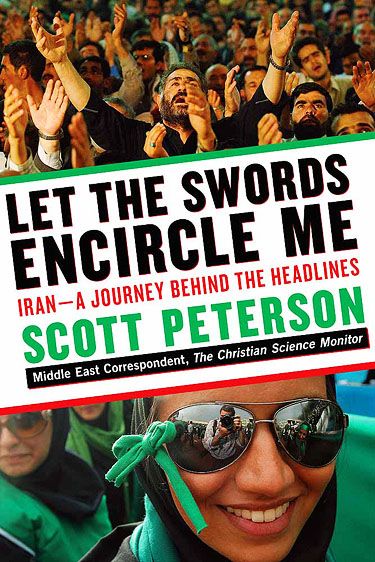 *** "Best Books of 2010," Publishers Weekly,
which reviews 7,000 books each year:
"A veteran reporter on the region brings us the best account we have of Iran—its rich history, artistic legacies, profound internal contradictions—in a copious, balanced, and readable narrative."
Reviews
"Peterson brings a depth of experience and knowledge to his writing about the country that few Westerners can match. His meticulously researched book is filled with delectable details obtained from private conversations with 'Believers'...and encounters with the overtly secular, lost youth of Tehran."
—Hooman Majd, The Washington Post (read review)
"Peterson's style is riveting...
"From sweaty political rallies in dusty provincial mosques, to vast cemeteries dedicated to Iran's war dead, from the tea and macaroons of government offices, to the private thoughts of a necessarily very private people, Peterson brings a living, breathing, all-too human Iran into the reader's hands, and one emerges with a sense of having gained intimate knowledge of, and compassion for, a place too often treated as inscrutable.
"Nothing in these 600 pages is superfluous; all of it is fascinating."
—The Dallas Morning News (read review)
"A panoramic page-turner.... Peterson has fashioned recent history into an enthralling saga, infused with suspense and tragedy, and featuring a cast of recurring characters whose unfolding fates offer more than a few surprises....
"The picture of Iran that emerges in the course of Let the Swords Encircle Me is much more complex than that held by most Westerners, but rather than lecturing his readers to this effect, Peterson embeds this truth in the irresistible momentum of his story. As the hard-liners grow ever more oppressive and the 2009 election approaches, you know what's coming, and like a good novelist, Peterson has kept every thread in play....
"There's a Tolstoyan panorama to Let the Swords Encircle Me that's likely to have readers checking the newspaper each day in a fever to find out what happens next."
—Laura Miller, Salon.com (read review)
"...should be required reading for policymakers in Washington...
"To describe Let the Swords Encircle Me as journalistic is not at all pejorative, for it is indeed the best kind of journalism—thoughtful, the fruit of intensive reporting, laden with well-sourced evidence and conclusions drawn from it."
—Ian Williams, Washington Report on Middle East Affairs (read)
"Incisive, humane, and full of vivid reportage... Perhaps the best account we have of Iran's complex, embattled reality."
—Publishers Weekly (starred review)
Advance Praise
"Journalist Scott Peterson has written a marvelous chronicle of Iran's policies and politics. Drawing on an unparalleled body of interviews with both the mighty and the powerless, he paints a picture of the country in all its fascinating complexity and color. Peterson is a persistent and sympathetic interviewer, but he is also a sophisticated observer of Iranian history and politics.
"There is simply no better portrait of the tumultuous past fifteen years in Iran—from the intrigues at the top to the attitudes of ordinary people trying to live their lives in the turmoil of the Islamic Republic."
—Gary Sick, principal White House aide for Iran during the 1979 Revolution and hostage crisis; author of All Fall Down: America's Tragic Encounter with Iran
"Deeply researched, fair-minded, and scrupulous, Scott Peterson's Let the Swords Encircle Me is foreign-correspondent journalism at its highest level."
—Alan Furst, author of Spies of the Balkans and The Foreign Correspondent
"A fascinating and nuanced account of life in contemporary Iran; the veteran journalist Scott Peterson has drawn on years of experience to provide a detailed yet personal account of political and social developments in modern Iran. Essential reading for all those who want to understand and appreciate the depth of the political crisis facing the Islamic Republic.
"An extraordinary achievement."
—Ali M. Ansari, Professor of Iranian History, University of St. Andrews, Scotland; author of Crisis of Authority: Iran's 2009 Presidential Election
"With a supurb journalist's sense of narrative and a scholar's mastery of the subject, Scott Peterson gives us a searing insight into one of the most complex, mysterious, and dangerous regimes on earth. A book that should be on the desk in the Oval Office."
—William Shawcross, author of The Shah's Last Ride
"With amazing access and dogged persistence, Peterson penetrates deeply into one of the world's most inscrutable regimes. His reporting is fast-paced, detailed, and timely. A must read to understand where Iran is headed, and why."
—Richard Engel, NBC News Chief Foreign Correspondent; author of War Journal
"In a wonderful and detailed account, Peterson presents a unique perspective on Iran that weds geopolitical maneuverings with intimate conversations with the man on the street in Iran. Few people in America have had Peterson's access to both ordinary Iranians as well as their rulers. This is a book that should be read by anyone who wishes to understand this ancient civilization."
—Trita Parsi, President, National Iranian American Council (NIAC); author of Treacherous Alliance: The Secret Dealings of Israel, Iran, and the U.S.
"This insightful and thoughtful exploration of Iran's Revolution comes at a critical juncture. Drawing on fifteen years of travel throughout the Islamic Republic, Peterson provides an insider's tour of the people and issues that have made Iran one of the most fascinating and frustrating countries in the world for three decades."
—Robin Wright, author of The Last Great Revolution: Turmoil and Transformation in Iran, and Dreams and Shadows: The Future of the Middle East
More Reviews
"Captivating ... Veteran Christian Science Monitor bureau chief Peterson reports from thirteen years of close observance of the changing Iranian landscape.... A thoroughgoing, headlong plunge into answering the Iranian lament that 'Americans don't know us.'"
—Kirkus Reviews